Digital marketing in Latin America: a talk with agency Altura Interactive
Spanish is the 3rd most spoken language on the Internet, and nowadays almost 20% of Facebook users are in Latin America. Also, the Spanish-speaking audience is huge among social media users in the US.
In order to be effective in these markets, knowing Spanish is just not enough: brands need to deploy fully integrated and localised digital strategies, as the cultural factors are more and more important in a global scenario.
We had a talk with Zeph Snapp, CEO and founder Altura Interactive, a digital agency focused on Spanish speaking audiences, based in Veracruz, Mexico. He shared with us some great insights, and a very interesting infographic.
– Hi Zeph, why did you decide to start Altura Interactive, and what do you guys do?
Hi! I started Altura Interactive (formerly known as Not Just SEO) because I saw a gap in the market. There were (and still are) very few agencies that work with international companies and startups that have decided to take the step of marketing to Spanish speakers.
We provide strategic advice and implementation for digital marketing campaigns focused on Latin America and US Hispanics who speak Spanish. This includes technical audits, guiding (and sometimes doing) translation and localization work, social media management, blogging, digitial PR, PPC and paid social.  The catch is, we only work on Spanish language projects.
– What kind of clients do you work with, and what are the main markets?
We work primarily with international companies that want to attract Spanish speakers from the US and Latin America. Recently we started taking on a few startups that are looking for help in growing their reach. Our favorite projects are those where we get to build the strategy and execute on it as well.
As far as markets are concerned, every project is different. Some are interested in Latin America in general, and others are going after a specific country, and we support both models.
– How big is the Spanish-speaking market at the global level (both offline and online)?
Well, Spanish is the second most spoken language in the world, behind Mandarin, but before English (it is close though). However, less than 5% of the internet exists in Spanish.  Most Spanish-speaking countries are also emerging economies, meaning that while penetration rates are high, we aren't as advanced when it comes to eCommerce.
However, there are companies that have been going after the market. Amazon opened a Kindle store forMexico recently (and Spain last year), and Shopify has been doing a ton of work to reach Spanish speakers. I'd say that there is a ton of opportunity in the market for companies that make long-term investments.
– As your website says, knowing a language isn't enough – "you need to send the right message". What kind of impact do cultural aspects have while marketing to Latin American countries?
I think it is all about context and intent.  If the campaign is focused on just Mexico or Chile, we can be much more informal in how we address users, but in Peru, we have to be very formal. We actually made an infographic about this!
But one of the biggest misconceptions that I've seen is that if you don't write unique, localized content for every country, that you shouldn't bother with it at all. I'd equate this to saying that if you aren't equipped to market to people from Texas, that there is no point in marketing to the United States!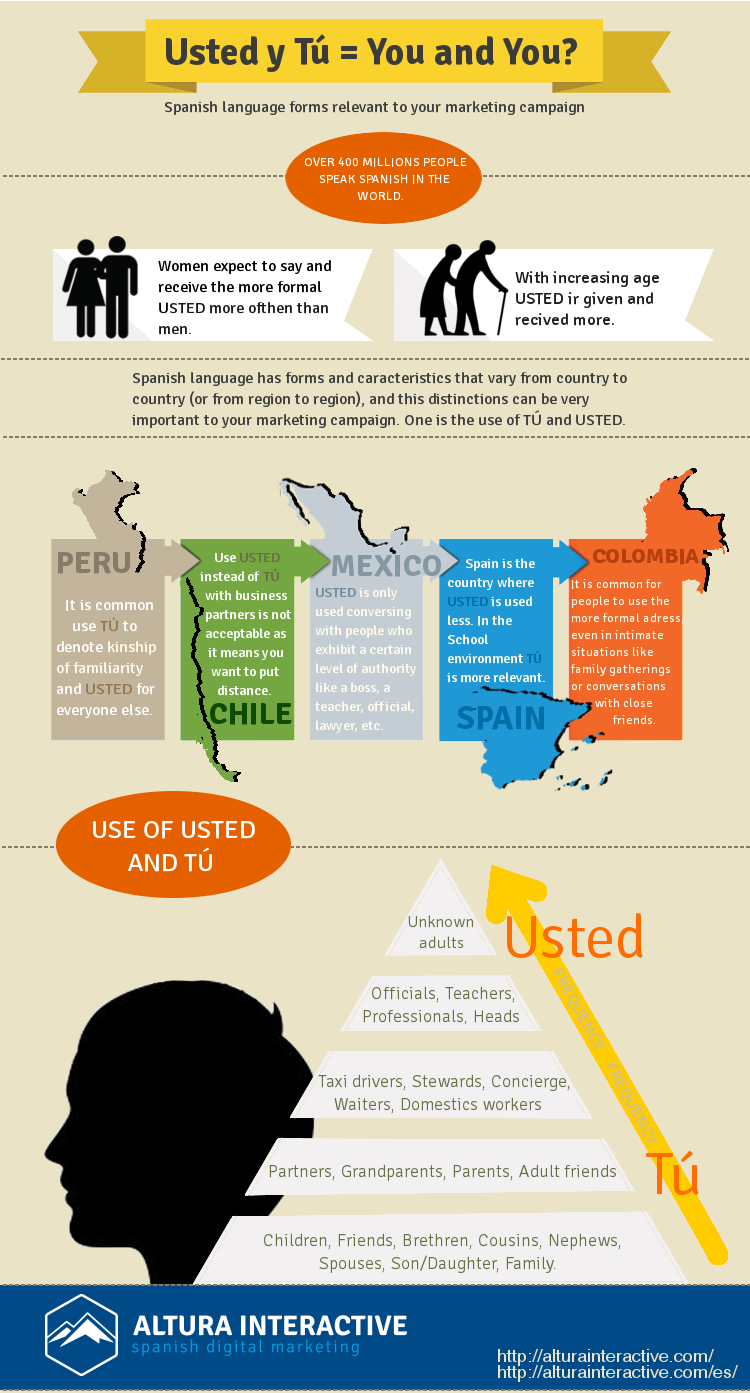 Sidenote:  There are too many websites that are machine-translating their websites and calling it a day.  Not only is this terrible from a UX perspective, but Google's Matt Cutts has said that sites doing this will be de-indexed. We have a saying in Spanish "lo barato sale caro", which loosely translated means, "going cheap can be expensive".
One great example is the site that was built for the US government to support their new healthcare initiative.  I wrote a blog post about everything that needs to be fixed, in case you are interested. There are more commonalities than differences, and as long as you are transparent about where you are from, most Latin Americans aren't going to be offended if you write in Mexican Spanish.
– What are the best platforms to reach the online audiences in Mexico and Latin America today? 
Well, it really depends, right?  But the fact is that Facebook is where everyone in Latin America is.  It is estimated that over 80% of people with access to internet in LA has a Facebook account.
That doesn't mean that  we should go out and spend our entire budget on Facebook ads though. The fact of the matter is that the SERP's are not nearly as good as they are in the US and Europe.
The Knowledge Graph has only been implemented for select terms, carousels are practically unheard of (the row of images that appear at the top of the Google SERP, editor's note), and there are far too many, many queries where Yahoo Answers and eHow still own the top results.  This means that for companies that are willing to make the investment, the search engine results pages are ripe for the taking.
– Last question: in your opinion, what are the main digital trends of 2014? 
Well, the easy thing to say is content marketing. For international, I'd say that it is time for online companies to move beyond Hreflang and translation. Now you need to have localized marketing campaigns for by region. It will help overall domain authority, and if implemented correctly, can bear fruit relatively quickly.
– Thanks Zeph!
Guido Ghedin
Geographical areas

Follow us

Interviews / Last posts

Twitter